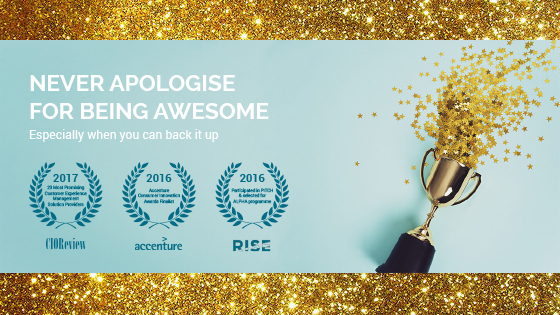 07 Jun

Syenap Listed on CIOReview's 20 Most Promising Customer Experience Management Solution Providers

Syenap is incredibly proud to be listed on CIOReview's annual list of 20 Most Promising Customer Experience Management Solution Providers.

Each year, CIOReview lists industry leaders in the field of Customer Experience Management Solutions. And this year, Syenap was the only South African company to make the cut. Not only is this an incredible honour, but it cements Syenap's status on the global market and opens up a wealth of opportunities for the company.

CIOReview is a technology magazine that strives to provide information on enterprise solutions. It's a platform that allows high-level executives to share their insights to propel the startup ecosystem forward. CIOReview provides analysis on IT trends and gives readers a deep understanding of what role enterprise solutions play in achieving business goals.

Some of the illustrious companies who made the list last year include:

1. Medallia
2. PeopleMetrics
3. PPT Solutions
4. Strativity Group
5. TagRail

So, Who is Syenap?

The idea of omni-channel engagement is definitely not new. But, how much information is available to retailers now is. Syenap is a game-changing technology start-up that's ultimate goal is to forever change how bricks and mortar retailers interact with their customers. Because once you go Syenap, you never go back (that works, right? Sure, let's go with that.)

Retailers need to understand what's happening in their physical space. But they need to start looking to technology to aid them in the ongoing battle between physical retailers and eCommerce stores. Otherwise, they might just be left behind in the trenches without a hope.

The Reason Behind the Solution

Syenap was established in 2013 when our fearless commander in chief, Elad Segev, had an epiphany about how little information was available for in-store marketing activations. This didn't sit well with Elad and he's made it his, and Syenap's, mission to provide more to his clientele. His relentless search for data and REAL numbers is ongoing, and so far it has resulted in an impressive platform. Yes, we're talking about Syenap, we're allowed to toot our own horn because, well, we're that good.

What Do We Do?

We pride ourselves on our ability to provide REAL data measurement to our clients and not just the rabbit-out-of-a-hat approach that so many solutions providers take. We're not all about numbers though, we believe in solving the problems we find with actions that have measurable impact. Any Tom, Dick or Harry can find a problem. But it takes a special kind of business to actually provide solutions.

Syenap can be implemented in any space in which people matter. Retail stores, shopping malls, casinos, and even brand activations. You name it and we can measure it. We're providing physical spaces with the ammunition they need to fight the eCommerce monster and down the beast!

When it comes down to it, retail is about making changes that ensure success and serve the customer. We expand on this to include making sure that physical stores, properties, banks and casinos can capitalise on every single pair of feet that walks through their doors. After all, nothing is more expensive than a lost opportunity.