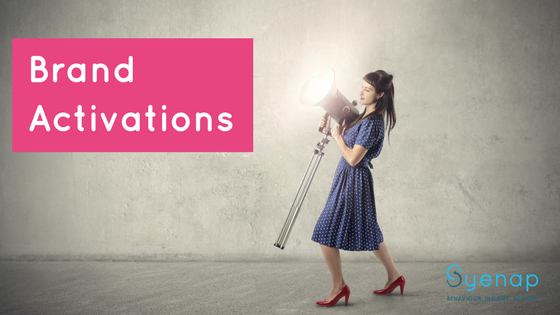 12 Feb

Are You Making the Most out of Your Brand Activations?

Before I discuss getting more bang for your buck with brand activations, it's a good idea to clarify what they are (if you're a seasoned manager, feel free to skip ahead to the next section.)

A brand activation can be defined as "the art of driving consumer action through brand interaction and experiences."

Basically, this is a wordy way of saying that activations make your brand known and loved by the public (your potential consumers). How you do this can be as simple as placing a stand in a popular mall with signage and well-educated staff who really know your product or service inside out.

Next Stop – Engaged (money-spending) Customers!

Now, let's talk about the real reason why you're here (seasoned managers, it's time for you to come back now) – how to capitalise on the opportunities that brand activations give you. The simple answer is to use data analytics software during the activation.

But once you invest in data analytics software, how can you use it to get the most out of your brand activations? Here are 3 examples off the top of my head:

1. Signage is Key
This should go without saying, but signage is pretty important. We tested a brand activation for one of our clients. It was a stand in a mall that was in place for 2 weeks. In the first week, there was little to no signage. In the second week we installed some and visitor activity actually DOUBLED.

Some things that you can learn from using signage and an analytics tool at your brand activation stand include:
What was your best advertising medium during the activation? Was it a simple sign, or a video?
Did your product layout and placement attract customers? Was it in a good spot? Were the products arranged enticingly?
Did your displays and specials effectively attract attention and generate interest?
2. Know Your Audience
In using data analytics during brand activations, you can learn what the demographics are of your stand visitors. This information can then be used for future marketing and strategy decision making. If you know who's interested in what you're selling, you will know who you should be marketing your product or service to.
3. Punt Your Wares – But Don't Sell Anything
If you choose to have a brand activation in a mall, your key focus should be on educating consumers and crafting an experience. BUT – and here's the kicker – your goal shouldn't be to make sales. At all. Before you even think about trying to close a deal or sell a product, focus on generating awareness and interest in your brand. If you craft an unforgettable experience for stand visitors, the sales will come.
The sales will come eventually. But if people don't know who you are and if you don't make them feel special right out of the gate, they won't bother spending their money on you. It really is that simple.
So, are you getting the most out of your brand activations? If your immediate answer was no or if you even hesitated, you need Syenap. Let's chat.